For Vladimir Putin, President of Russia, the era in which the United States dominated the world is over.
The Russian president appeared this Friday at an economic forum held in St. Petersburg and questioned the power of Washington against other countries in the world.
"The United States, after proclaiming itself victorious in the Cold War, has declared itself a messenger of God in the world. It says that it has no obligations but only interests, and these interests, according to them, are sacred," he questioned in a 73-minute speech.
And he added: "It is as if they did not realize that in recent decades new and powerful centers of power have been formed on the planet that are becoming stronger every time."
"They believe that the world and economic hegemony of the West is eternal , but no, nothing is," Putin said, "the Western colleagues try to counteract the course of history by thinking in terms of the last century."
For the Russian president, "it is a mistake to believe that during these fundamental changes someone tries to wait for the tide to go out, for everything to return to normal, and for everything to continue as before."
" That will not happen . However, it seems that the ruling elites of some Western countries live in that illusory world, they do not want to notice obvious things, but stubbornly cling to the shadow of the past," he said.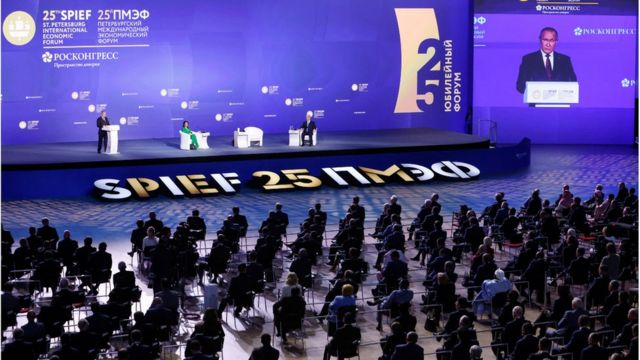 "We are talking about objective processes, about truly revolutionary, tectonic changes in geopolitics, the global economy, the technological sphere, in the entire system of international relations," the Russian president said.
"A year and a half ago, speaking at the Davos Forum, it was again stressed that the era of the unipolar world order was over. (This era) has ended despite all attempts to revive it and maintain it at all costs" , he reiterated.
"Crazy and thoughtless" sanctions
Putin called the sanctions imposed by the West on Russia after its invasion of Ukraine "crazy and thoughtless", saying "the economic blitzkrieg against Russia had no chance of success from the beginning."
In his view, the restrictions were "more harmful" to those who imposed them than to Russia, since, he said, the European Union could lose more than $400 billion as a result.
Western nations have been seeking a balance between punishing Russia and protecting their economies.
Russian officials have warned that the country's economy is suffering serious damage from the sanctions.
Central Bank President Elvira Nabiullina said on Thursday that "15% of the country's GDP" was threatened by international sanctions.
Nabiullina was also pessimistic about the prospects for an imminent recovery, telling delegates at the St. Petersburg forum that "it is obvious to everyone that it will not be like before."
"External conditions have changed for a long time, if not forever," he acknowledged.
Link: https://www.bbc.com/mundo/noticias-internacional-61849766
Author: