The American companies Coca-Cola, Pepsi, McDonald's and Starbucks announced on Tuesday the suspension of their operations in Russia.
The measure was taken by these companies with a global presence in the face of Russia's invasion of Ukraine, which began two weeks ago.
"Our hearts go out to the people who are enduring the inconceivable effects of these tragic events in Ukraine," The Coca-Cola Company said in a statement.
The beverage company had faced mounting pressure to withdraw from Russia , with #BoycottCocaCola trending on Twitter in recent days.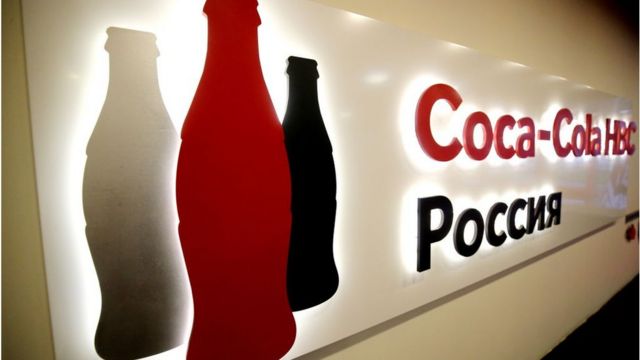 Its operations in Russia represent approximately 2% of its global revenues.
Its rival Pepsi similarly reported that it will stop its operations in Russia .
"We cannot ignore unnecessary human suffering"
The hashtag #BoycottMcDonalds also trended on Twitter over the weekend and on Monday.
McDonald's said Tuesday that it will temporarily close its approximately 850 restaurants in Russia in response to "unnecessary human suffering unfolding in Ukraine."
The fast food chain, which has had a presence in Russia since 1990, said it was "impossible to predict" when it would reopen, adding it was also experiencing supply chain problems.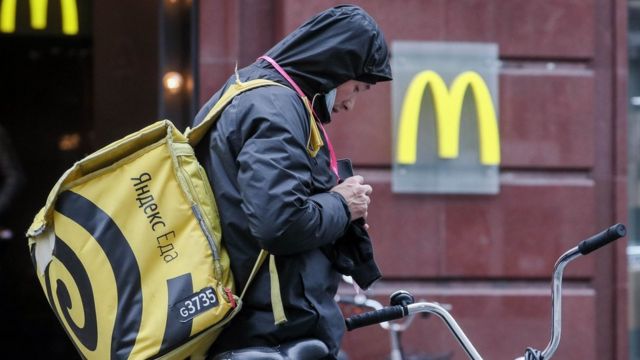 McDonald's reported that it will continue to pay its approximately 62,000 employees in Russia.
"Our values ​​mean that we cannot ignore the unnecessary human suffering in Ukraine," CEO Chris Kempczinski said in a memo to staff that was shared publicly.
"The conflict in Ukraine and the humanitarian crisis in Europe have caused unspeakable suffering to innocent people," Kempczinski wrote.
"As part of a system, we join the world in condemning aggression and violence and praying for peace," he added.
The executive said the company had made the decision within the last week.
In addition to personnel, the measure will affect hundreds of suppliers and the millions of customers that McDonald's has in Russia.
Icon of the Russian economic opening
McDonald's established its presence in Moscow in 1990, when the Soviet Union was opening up its economy, drawing thousands of people for its burgers and fries.
As tensions with the West escalated in 2014 over Russia's annexation of Crimea, some of its restaurants were closed as part of an investigation into food standards, which many saw as politically motivated.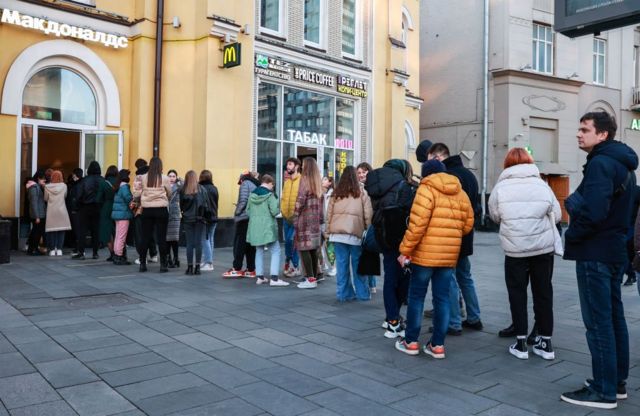 The closure now also carries symbolic weight and is likely to influence other companies.
McDonald's -which does not own all of its branches in the world but in some cases operates under the franchise mode- owns most of its restaurants in Russia.
McDonald's also temporarily closed its 108 restaurants in Ukraine, where it continues to pay wages and donated $5 million to an employee assistance fund.
The Ronald McDonald House charities will remain active in Ukraine and Russia.
Chain reaction
McDonald's thus joined a growing list of Western brands that are cutting ties with Russia over its attack on Ukraine.
Starbucks said Tuesday that it will suspend all business activities in Russia, including shipments of its own products.
Its licensee in the country, Kuwait-based Alshaya Group, will temporarily close more than 100 stores it operates there . It will continue to pay its roughly 2,000 employees, he added.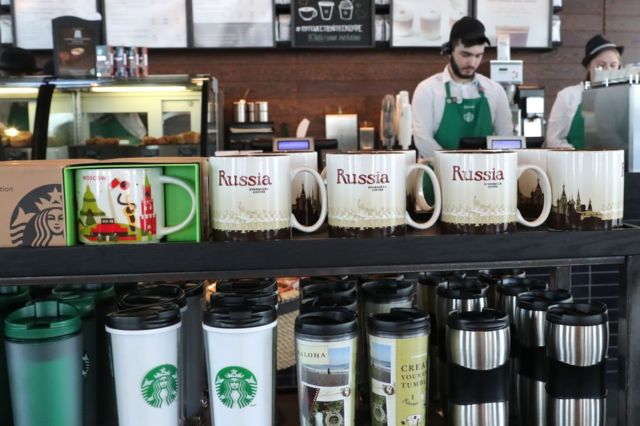 Dozens of well-known firms, including Netflix and Levi's, have already suspended sales or stopped providing services in Russia.
Unilever, maker of Marmite, Dove and PG Tips beauty products, among other brands, said it had suspended trade with Russia and planned to stop spending and investing in advertising and media there.
Unilever will, however, continue to supply "everyday essential food and hygiene products" made in Russia.
L'Oreal, the world's largest cosmetics company, said it will also close its stores and concessions in Russia and suspend online sales.
However, other companies have defended their plans to continue operating in Russia, including Uniqlo owner Tadashi Yanai, who told the Japanese newspaper Nikkei that "clothes are a necessity of life."
Link: https://www.bbc.com/mundo/noticias-internacional-60671172
Author: