In tacos al pastor, in pozole or with tequila: anyone who has eaten (or drank) in Mexico knows that lemon is much more than just a side dish.
However, its price has skyrocketed – especially in the last two months – that having this essential flavor for so many dishes is becoming increasingly difficult for consumers.
"For the Mexican community, it is impossible to do without lemon," says Alejandro Pichardo, a vendor at a greengrocer in the Roma neighborhood in Mexico City, where a kilo of lemon costs 85 pesos (just over US$4).
The importance of this citrus fruit can be seen at a taco stand not far away, where customers help themselves to their taste from a tray full of lemon chunks that they squeeze onto their tortillas.
Luis, who has run the stand for a decade, knows that in other places the use of lemon for buyers is being limited. He also that in other stalls the price of tacos has been increased due to the current cost of this fruit.
But he is reluctant to make any changes and continues to sell an order of five tacos for 30 pesos (US$1.5). At least for now, but he does acknowledge having thought about raising the price.
"We do not want to limit the lemon because for people it is very important, but now a kilo costs us the same as a kilo of meat. There are practically no profits ," he tells BBC Mundo.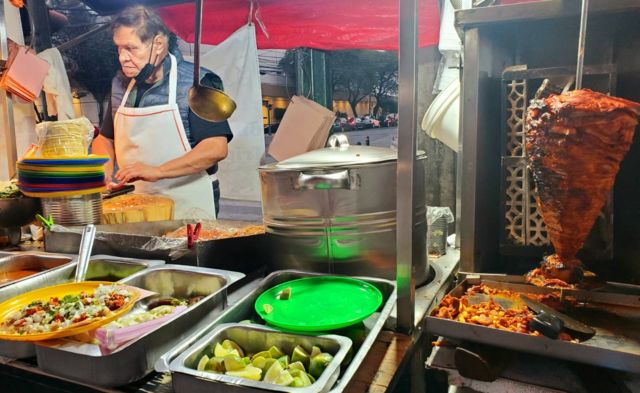 An "historical record"
Indeed, the price of lemon almost tripled in one year in Mexico to 46.41 pesos per kilo as an average of last January, according to data from the National Market Information and Integration System (SNIIM).
But it is that only two months ago, the lemon cost less than half: 19.56 in November. According to the Consumer Attorney General's Office (Profeco), the average consumer sales price in the week of February 2 to 8 was 80.19 pesos.
"These are historical records, we have no record that the lemon arrived earlier at current prices," Luis Fernando Haro, director of the Mexican National Agricultural Council (CNA), confirms to BBC Mundo.
This increase could be understood within the global inflation that is impacting the prices of almost all countries. Lemons in Chile, for example, became 35.2% more expensive in January compared to December. In Lima, Peru, it increased by 7.38%.
But in Mexico the rise was much more dramatic. According to the National Institute of Statistics (INEGI), lemon was the product of the basic basket that became more expensive in the last two months: 46.11% in December and 68.77% in January.
It is far from the zucchini, the second product that increased the most in January with 19.28%. And even more than general inflation in Mexico, which last month was 0.59% with an annual rate of 7.07%.
Thus, behind these prices there is also a drop in lemon production in Mexico, the second largest producer in the world , only behind India. In 2021, according to data from the Mexican Ministry of Agriculture, 2,965,000 tons were collected.
And although really, on average, this figure was 4% more than in 2020, it was in the last three months of 2021 -in which almost a third of the year's production is obtained- when the figures fell notably.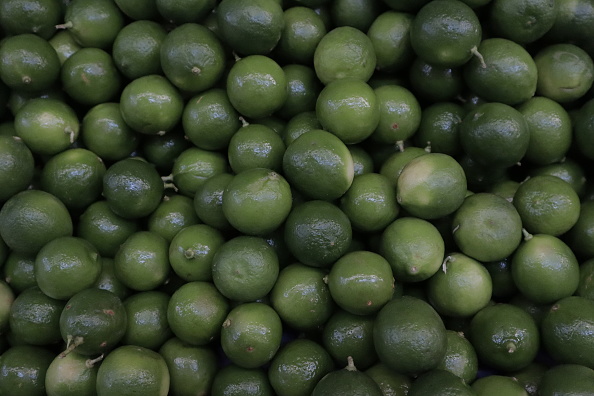 Lemon production in Mexico🍋🇲🇽
2nd

producer and exporter in the world.
2.96

million tons collected in 2021.

54.3%

It is produced in two states: Veracruz and Michoacán.

30%

it is exported to other countries, mainly to the United States.
Source: Ministry of Agriculture of Mexico and SIAP.
Thus, December had a decrease in national production of 45,357 tons compared to the previous month. In three of the main producing states (Veracruz, Michoacán and Tamaulipas), for example, 24.3% less was collected than in November.
As if that were not enough, along with this lower supply , there is a greater demand for lemons that is usually repeated at the end of the year, coinciding with the cold months and its benefits against some diseases.
The president himself, Andrés Manuel López Obrador , assured when he contracted covid in January that the citrus had been part of his treatment along with water, paracetamol and honey. "Although lemon is expensive, I tried not to put so much on it, " he said after recovering.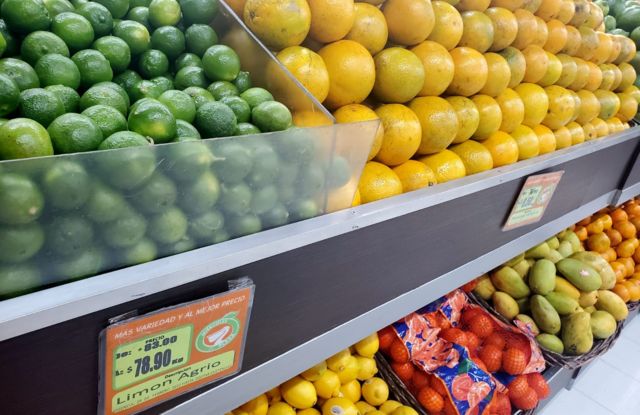 What are the causes?
The decrease in harvesting at the end of last year, added to the fact that the period from January to March is always the period with the lowest production of the year, explains the current lower supply -and, consequently, the higher price- of lemons in Mexico, but what are the Causes?
Both producers, economists and the government's Ministry of Agriculture point to factors related to climate change such as recent frosts and rains that caused crop losses.
Another reason was the increased cost of fertilizers. "In less than a year, their cost increased by more than 100%. And this has caused some producers to not have the resources to use them, which affects productivity," says the director of the CNA.
And also, although this is a problem that goes back a long way, it affects insecurity in entities with as much lemon production as Michoacán, where some farmers abandoned their productions due to threats and extortion from organized crime.
"These groups condition what day (the lemon) is cut, they make the producer sell them at the prices they set and they even take over the land. First they serve themselves and then they let people work, they almost seem like landowners," The parish priest of the Michoacan municipality of Aguililla, Gilberto Vergara , tells BBC Mundo .
From this town that has been besieged for years by struggles between cartels, the priest recounts how these groups asked farmers for money in exchange for letting them take their products out of the town or directly prevented the departure of trucks loaded with lemons by blocking the main highway.
"Because of this and because of the violence, people are forced to abandon their plots. So sadly we have around (the town of) El Aguaje abandoned lemon groves that do not produce , and full of weeds because some families left, others cannot pass and others are afraid. It's a big problem and a great loss," he denounces.
A price increase that is "not proportional"
Given its position among the main lemon exporters, it could be thought that the sale of citrus fruits outside of Mexico also influenced the limited supply within the country.
"Although the annual consumption of lemon in Mexico is 15.1 kilos per capita, well above, for example, the 8.1 kilos of avocado, there is an amount destined for local consumption that satisfies demand," says Kathia Ramos . , director of the Finance degree at Tec de Monterrey.
"But it is important to remember that a large part of what is produced is destined for export because it is better paid abroad. It is something very similar to what happens with avocados in the United States, for which they offer a better price. We can see the same with the lemon," he tells BBC Mundo.
The US is by far the main buyer of lemons grown in Mexico. It is followed at a great distance by the Netherlands, the United Kingdom, Japan and other European countries, according to official data from 2019.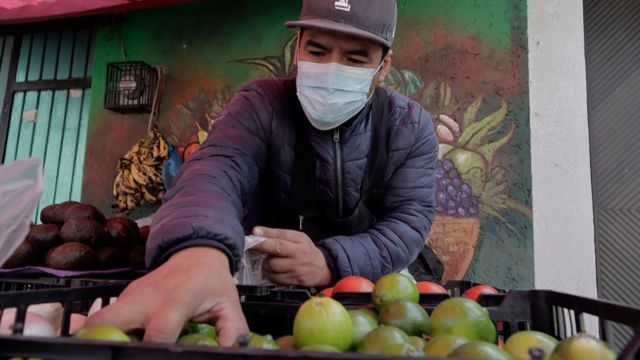 However, the Ministry of Agriculture assured in a report dated January 20 that the volume that Mexico allocates to the external market (which is usually almost 30% of its total production of lemons) did not present upward changes in 2021 that could explain the current increase in prices, nor was there an increase in export sales prices.
In fact, despite the reasons that may explain the current situation, the Secretariat warned that this rise in lemon prices "is not proportional to price increases" for the buyer and warned that "the intermediary factor must be reviewed so that the consumer is not seen unreasonably affected".
An analysis by Grupo Consultor de Mercados Agrícolas (GCMA) published by the newspaper El Universal pointed in the same direction by assuring that the sale price of lemons to consumers during the last week of January was 82.6% higher than what was sold in the wholesale medium.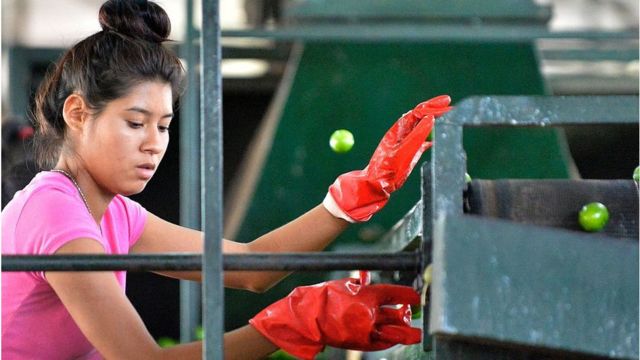 Luis Fernando Haro, from the National Agricultural Council, acknowledges that "one might think that the producer is doing very well, but it is important to point out that these prices that we see are those at the end of the production chain, not those that reach the farmer."
According to the director of the CNA, the average price in 2020 and 2021 of what lemon producers received was about 10-12 pesos per kilo. Currently, taking the state of Jalisco as a reference, they can receive between 40 and 55 pesos.
"We have to see how we can produce more food that reaches the consumer more affordably," he acknowledges.
When will prices drop?
When asked when the price of lemons will drop -probably what most interests consumers-, the experts consulted agree in pointing to between April and May, since that is when production usually increases each year and there are more citrus fruits for sale.
But, despite these record prices and a general minimum wage in the country of only 172.87 pesos a day (less than US$8.5), it seems difficult for most Mexicans to live without such a fundamental product in their daily diet. .
"Salaries do not increase at the same rate as inflation, but those of us who are accustomed to Mexican cuisine know that there is almost no substitute for lemon. This affects people's pockets because they do not stop buying it, but instead increase spending on lemons and spend less on other products," says economist Ramos.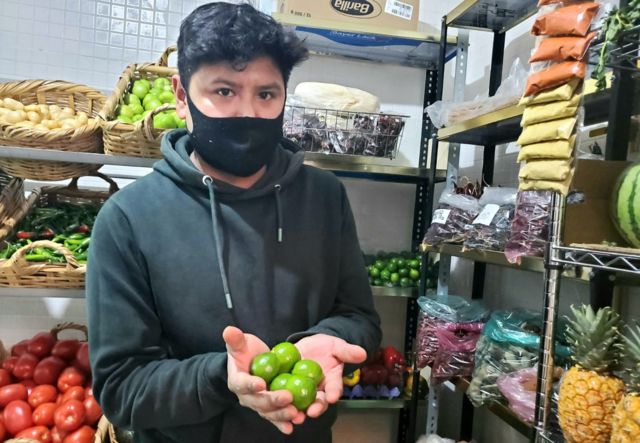 From his greengrocer in Mexico City, Alejandro Pichardo confirms that his customers continue to buy lemons despite the fact that they have become almost a luxury product for many families.
"I think that the intermediaries raise the price precisely because they know that people are going to continue buying. It is something so important in Mexico that people are going to get rid of other things before lemons," he concludes.
Link: https://www.bbc.com/mundo/noticias-america-latina-60342651
Author:
Marcos Gonzalez Diaz

BBC News World correspondent in Mexico