One of the first decisions of the President of Kazakhstan, Kasim-Yomart Tokaev, to contain the violent protests in his country was to call Moscow.
On the other end of the phone was Vladimir Putin, his Russian counterpart. Hours later, a group of Russian paratroopers landed in Kazakhstan to "stabilize" the country and assist the local government in the alleged "anti-terrorist operation" against the protesters.
This Friday, the authoritarian leader of Kazakhstan said he had ordered the security forces to " fire without warning ", amid a violent crackdown on protests against the government.
Kazakh security forces have reported that "dozens" of anti-government protesters have been killed and hundreds injured.
In addition, according to the authorities, 12 members of the Kazakh security forces have died and 353 have been injured in the riots.
The protests broke out last Sunday, after the authorities of the former Soviet nation lifted the price limits of liquefied petroleum gas, which many people use in their cars.
The measure resulted in an increase in consumer prices, which generated the anger of the population .
By Tuesday, the protests had already spread to most cities and towns in Kazakhstan and quickly turned violent as police began using tear gas and stun grenades against a crowd of thousands in the country's largest city. , Almaty.
Besides the price of fuel, there are other political reasons for discontent. Kazakhstan is described as an authoritarian country and most elections are won by the ruling party with almost 100% of the vote. There is no effective political opposition.
A spokesman for the Almaty Police Department informed local media on Thursday that "extremist forces" had attempted to raid several government buildings, including the police department.
In this context Tokaev asked for Putin's help. But what does Russia have to do with an internal matter in Kazakhstan?
The Collective Security Treaty Organization
President Tokaev accused "terrorist gangs" formed abroad of being behind the wave of violence and reported that he had requested the help of the Collective Security Treaty Organization (CSTO), an alliance of former Soviet nations led by Russia. .
The alliance is currently made up of Armenia, Belarus, Kazakhstan, Kyrgyzstan, Russia and Tajikistan , and was conceived as a union to counter external military threats.
Following the Kazakh request, the current president of the CSTO, the Prime Minister of Armenia, Nikol Pashinyan, assured that the alliance would send peacekeeping forces "for a limited period of time."
Kazakhstan, a nation of about 19 million people, shares a long border with Russia and is in what Moscow regards as its sphere of influence .
"Russia's number one ally"
"Kazakhstan is a very important international ally for Russia. It is a member of all Moscow integration projects such as the Eurasian Economic Union and the CSTO, which they have used to send troops," analyst Temur Umarov, of the Carnegie Moscow Center study center, based in the Russian capital.
"It can be said that Kazakhstan is Moscow's number one ally, and for Russia it is very important to maintain a stable border with Kazakhstan and it is in its interest that a friendly political regime can control a situation like the current one," explains the Central Asian expert.
This is the first time that the CSTO, founded after the dissolution of the Soviet Union, has agreed to deploy "peacekeepers" to assist a member country.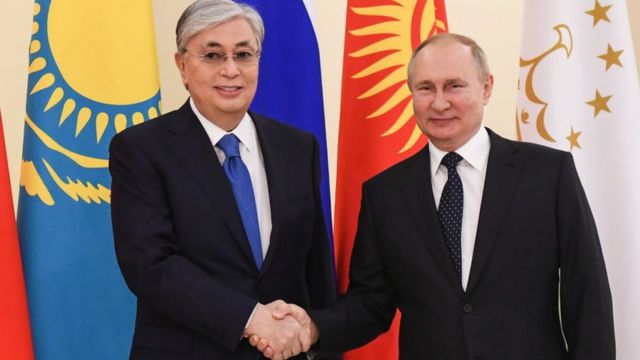 In 2010, Russia rejected a request from Kyrgyzstan for the CSTO to send peacekeepers to that country when a wave of ethnic violence broke out there, claiming it was an internal affair.
So why did Russia decide to intervene in Kazakhstan now, and didn't when Kyrgyzstan asked for help?
Besides the fact that Kyrgyzstan does not share a border with Russia, Uzbek analyst Temur Umarov believes that the answer lies in political differences.
"The main political parties hate each other and when one comes to power, the other leaves and waits until they can return, and the whole system changes," explains Umarov.
"Kyrgyzstan has gone through three revolutions in the last 20 years (2005, 2010 and 2020) and it has been very risky for Russia to intervene in these processes because it was not sure whether the party it was going to support would retain power," he adds.
This is not the case in Kazakhstan.
"Everyone is pretty sure that the current political regime will remain in power ."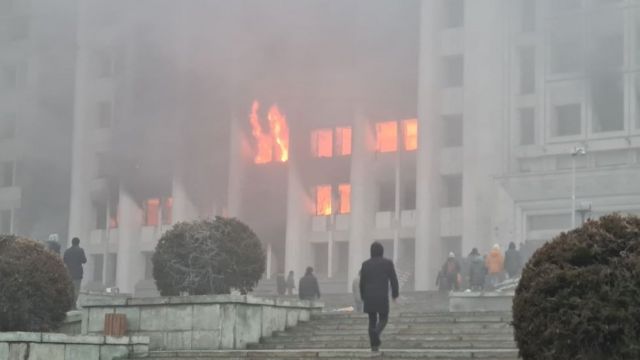 The country's current president, Kasim-Yomart Tokaev, won a criticized election in 2019, after former president Nursultan Nazarbayev resigned in March of that year.
Nazarbayev had ruled Kazakhstan for 19 years , since the fall of the Soviet Union in 1990.
"Kazakhstan will test Russia's capabilities"
But with Russia's armed forces heavily engaged along the Ukrainian border , the crisis in Kazakhstan appears to be ill-timed for Moscow.
According to Alexander Baunov, another Russian foreign policy analyst at the Carnegie Moscow Center, the Kremlin now needs to "divide its attention" and " manage strategic instability on two fronts ."
"It seems that Ukraine and NATO are no longer the only main focus of future talks between Russia and the United States, there is a new hot topic for negotiations with Biden," he wrote on Twitter.
"If you have high ambitions for power , show what you can do on various fronts … Kazakhstan will put Russia's current capabilities to the test. It will be both distracting and sobering."
A video released by the Russian media shows a small number of Russian soldiers getting on a military transport plane.
According to the CSTO, peacekeepers will be deployed to help protect state and military installations in Kazakhstan.
Getting a clear picture of what is happening in Kazakhstan is proving difficult amid what monitoring groups describe as a " nationwide internet blackout ."
There are some reports that the security forces have sided with the protesters in some places.

Burned buildings and long lines
Abdujalil Abdurasulov, BBC journalist in Almaty
Almaty's bustling square has become a conflict zone, with buildings and vehicles burning.
Many people are afraid to go out, especially at night because the fighting continues. The sounds of gunshots and explosions remind people how dangerous it can be to leave their homes.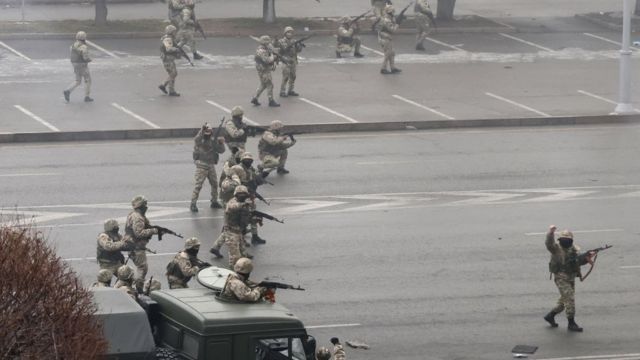 Local vigilante groups are blocking the entrances to their villages around Almaty to prevent looting.
Checkpoints and makeshift barriers also block entry into the city, so people use narrow streets to get in and out of Almaty.
There are long lines at gas stations. Residents find it difficult to buy food because shopping centers, supermarkets, cafes and restaurants are closed. Only small stores are still open.
And the internet blackout continues, so people cannot withdraw money or recharge their phones.