Google will provide financial and technological support to startups,
You will receive a minimum of $ 2,000 in startup credits.
Google will provide innovative startups with the technology, assistance and services necessary to get startups off the ground.
Attention, innovator! Accelerate the growth of your startup with Google Cloud. This program from the Internet giant will provide innovative startups with the technology, support and services they need to do so.
Through this program, startups will be provided with the necessary credits to grow rapidly and reduce the initial costs of infrastructure, training, assistance and advanced technology. To participate you can register here and fill out the form.
As part of this program, you will be able to obtain financial, business and technological support, such as: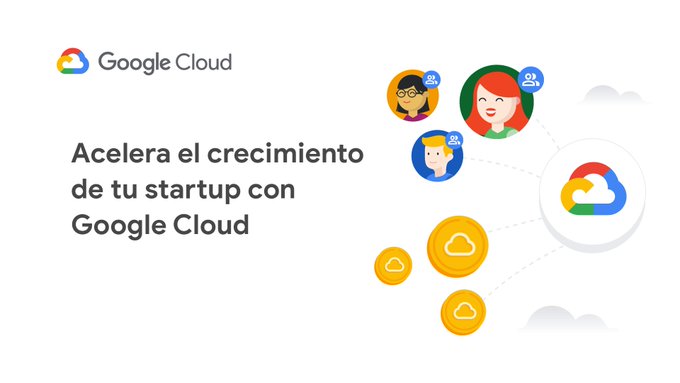 – A minimum of $ 2,000 in initial credits for startups, with the possibility of receiving additional credits based on the support of accelerators, incubators or venture capital investors, investments of exclusive venture capital companies, and the scope of your infrastructure needs .
– Opportunities to expand your business through events, our global community of startups and experts, and individual mentoring. Some startups may qualify for personalized go-to-market opportunities.
– Technical training resources and workshops to improve your team's skills. Some startups may qualify for personalized assistance from a specialized Google Cloud team.
– Additional credits and assistance available for Google Workspace, Google Maps, Google Ads, Google Play, Qwiklabs, among others.
Program requirements
Before enrolling in the Startup Program, make sure your startup meets the following requirements:
– She is not currently enrolled in the Startup Program
– It is located in a Google Cloud territory. You can check it here
-Has a publicly available company website and a unique company email domain. Generic email domains or hidden websites will not be accepted. Do you need to create a custom email? Create your Google Workspace account here
– You have a valid Google Cloud billing account ID and your billing account manager has an email domain that matches your company's unique domain. If you don't already have a GCP billing account ID (for example, an 18-digit alphanumeric hexadecimal string like ABC123-DEF456-GHI789), create one here. Otherwise, you will only be able to receive our free trial credits.
– Not an educational institution, government entity, non-profit organization, personal blog, development agency, consultancy, agency, bitcoin or cryptocurrency company
– It has not been acquired or participated in an initial public offering of shares. Consider a long-term partnership with Google Cloud to scale the business.
Source:https://andina.pe/agencia/noticia-tienes-una-startup-google-brindara-apoyo-financiero-y-tecnologico-a-emprendimientos-847912.aspx